| | |
| --- | --- |
| Tiswas Girl In: Pie In The Sky! Air Hostess Gets Messy | |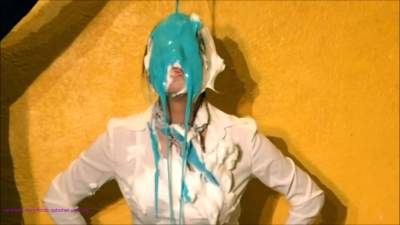 Starring the following model:
| | |
| --- | --- |
| File count: | 1 |
| Total size: | 179.27 MB |
| Runtime: | 5 mins, 38 secs |
| Released: | 4/06/19 |
| Views: | 1813 |
| Scene ID: | 34186 |
| Producer: | RevSlymsford |

$3.99



The awesome Tiswas girl returns. This time she is an air hostess demonstrating the safety procedures, which cause her to get thoroughly pied and slimed.

She greets you and welcomes you to Pie In The Sky airlines. She explains that they are the only airlines that serve custard pies throughout the flight... and splatt... she gets one pushed right into her face.

She then says she will now give the 'pie safety' demonstration, but at the mention of the word pie, she gets another pie full in the face.

She asks that you keep your seatbelts on, so you can be pied properly during the flight... and 2 pies fly through the air and land on her.

She advises that in the event of turbulence, pies will fly from all directions... and of course they do!

She explains that pies can be served in the front (she takes 2 pies to the boobs), to the rear (2 pie to her bottom) and in the cockpit (she gets pies on the front of her skirt).

She explains that if you press the call button, they will happily deliver more pies to you. She has her arms outstretched to demonstrate, each arm holding a pie.

Unfortunately that means she can't defend herself and she is hit in the face with two pies.

She explains that if you land on water you should plaster your body with more pies to help you float... and she pies herself with 2 pies.

In the event of a loss of cabin pressure, she reassures you that gunge will fall from the overhead panel. And of course this has to be demonstrated too, so poor Tiswas Girl gets covered in gunge.

As she concludes the demonstration, she gets pelted with pies. "Thank for choosing to pie (splatt!) err I mean fly with us", she concludes.

Includes some brief behind the scenes footage of Tiswas girl discussing the scene, and even making the pies and gunge.

Report