| | |
| --- | --- |
| Belle Loves Wearing + Trashing Her Friend's New Clothes | |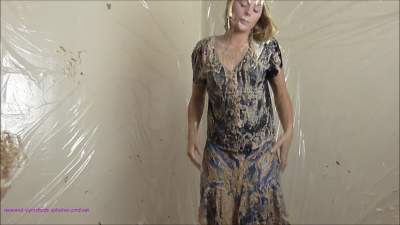 Starring the following model:
"Skirt, Blouse, Bra and Panties... they all get totally trashed"
| | |
| --- | --- |
| File count: | 1 |
| Total size: | 1.18 GB |
| Runtime: | 14 mins, 38 secs |
| Released: | 3/03/19 |
| Views: | 1767 |
| Scene ID: | 33650 |
| Producer: | RevSlymsford |

$7.99



Belle sits down and says hello. She says she is fed up with her friend, who keeps borrowing her dresses, and even her bras and knickers, without asking! So as she feels a bit naughty, she has put on her friends bra, knickers, skirt and blouse and is going to get her own back by totally destroying them.

She decides to start with toffee ice cream sauce (syrup) all over the pretty black blouse and blue skirt. She follows that up with chocolate porridge poured all over the front, and then the back, of the blouse.

"wow that's never going to come out... that blouse is totally destroyed" she laughs "she's going to be so pissed off" "I can't wait to see her face when she sees I have destroyed her lovely outfit"

Next up it's rice pudding... which she puts onto her bare legs and then rubs in thoroughly, before getting a carton of cream and pouring it over her head before massaging it into the fabric of the blouse and skirt, to ensure it ruins them. "Doesn't that just look lovely" she laughs "I want to trash every inch of her lovely outfit"

She decides the back of the skirt is way too clean, and gets a tub of lemon yoghurt and pours it all down the back of the once pretty skirt.

Looking down her top she laughs "she likes this pink and black bra... I don't know about you guys but I think it would look much better cream"

She puts squirty cream down her top, over the bra... and then pushes down on the outside of the blouse to get the cream to rise out of the top again, which looks amazing!

"We've got to make sure they match... can't have a set that's not matching" she says naughtily, as she sprays inside the pretty knickers, so they too get covered in squirty cream.

She pushes on the outside of the panties and the cream emerges out from the sides... brilliant!

"Nice little black knickers... absolutely destroyed" she gloats Next up, she gets her friend to spray purple gunge over the blouse and skirt and stain them, which he does with pleasure.

"I think it worked" she laughs "they are definitely trashed now... it feels so naughty"

As the blouse is trashed she removes it, and sets to work on the bra with sticky golden syrup. She pours the syrup on, then massages it into her bra, and also over her ars, her tummy and neck, working the sticky golden gloop in very throughly.

She asks you if she should take the skirt off so she can get to the knickers and when you say 'yes' she slips it off, leaving her in just the lingerie.

She decides to cover the knickers in white paint... she pours it over them, and her legs, and then rubs it in very very thoroughly, completely transforming the colour of the panties.

But now Belle is worried that the bra looks too clean, so she gets a nice sticky trifle and massages it into the bra... and her tummy. "That's definitely trashed now" she laughs, as the scene ends with Belle have thoroughly trashed all of her friend's clothes.

Report