| | |
| --- | --- |
| Mostwam Gets the Slymsford Messy Treatment 26 Min | |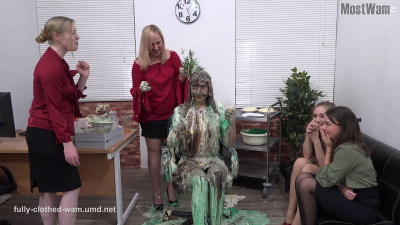 Starring these models:
| | |
| --- | --- |
| File count: | 4 |
| Total size: | 1.9 GB |
| Runtime: | 32 mins, 48 secs |
| Released: | 5/02/18 |
| Rating: | |
| Reviews: | 3 |
| Views: | 12508 |
| Scene ID: | 28216 |
| Producer: | RevSlymsford |

$14.99



It's finally available. The next scene we shot at the famous Slymsford's meets MostWam summit. A terrific 26 minute scripted scenario... plus free bonus wash-off too

Starring Charlotte, Sky and Casey from MostWam get totally trashed by Messy_Miss Michelle and Satine from Slymsford's... with a cameo from Lisa Moomin

Lisa tells Charlotte she has a great opportunity for her. A company who have managed to achieve amazing productivity and behaviour from their staff are coming in to give a presentation on how their unique disciplinary process 'the treatment' works... and Lisa is happy for Charlotte to attend in her place. Hmmmm... naughty Lisa!

Charlotte is really excited at this opportunity... but needless to say, she isn't quite as happy once Michelle and Satine have told her how the demo works and that she's the victim. She takes enormous amounts of pies, cakes, trifle, gunge, cream, custard, honey all over her face, hair, hosiery, her gorgeous clothes, and even inside her expensive shoes. Two trolley's worth of mess leave her totally destroyed.

Charlotte's colleagues Casey and Sky find this hilarious... but not for too long, as there's plenty of mess to go round!

They are sitting underneath the gunge vats, and when they laugh at their boss's misfortune too much... they get throughly gunged... and then creamed, pied and messed up more for good measure. 26 minutes of delight... plus bonus clean-up footage.
Includes these files:
revslymsfordofficescenestorehdpart1.mp4

1920x1080

8,326 Kbps

677.93 MB

11.4 minutes
revslymsfordofficescenestorehdpart2.mp4

1920x1080

8,255 Kbps

904.54 MB

15.3 minutes
revslymsfordofficescenestorehdpart3washoff.mp4

1920x1080

8,266 Kbps

362.12 MB

6.1 minutes
Reviews from Paying Customers:
"Brilliant set up by Lisa"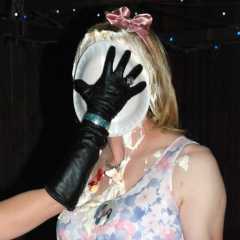 So I gave these clips excellent this is why.
Its shot in excellent high definition.
The ladies are gorgeous and wearing sexy corporate clothing and the scene is shot in an office environment.
Charlotte has been set up by her boss played brilliantly by Lisa Moomin ( I would so like to be pied by this lady )
Charlotte tries to get out of her ultimate humiliation in front of her 2 subordinates but in vain as she has been properly set up by real professionals.
Charlottes humiliation starts just so brilliantly with an absolute fabulous pie in the face, full coverage by a well given pie one of the best I have seen, the other girls just giggle at poor Charlotte as she receives it and just so much more too.
Just get these clips to find out what happens next.
Highly recommended by
custardpieJane.
custardpiejane,

9/29/18
edit review
"I wonder if "The Office Treatment" can be a Government Policy" Another Brilliant Collaboration between Rev and the Mostwam Team A Great Humiliating concept at poor Charlotte's expense, her moaning and reactions of shock throughout were spot on, Satine and Michelle took great pleasure in dishing out pie after pie, food product after food product... The Pictures don't do the scene justice to how much mess Charlotte had to endure while her colleagues Casey and Sky laughed throughout... Though Satine and Michelle got the last laugh when, at the end, the tables were turned on poor Casey and Sky as they were having way to much fun...
All 3 Mostwam girls were left destroyed and humiliated, looks like Rev strikes again :) Beautifully Acted, shot and edited, Overall a wonderful scene that i thoroughly recommend :)
CalGungeFan,

6/13/18
edit review
"We need more Rev and Mostwam collaborations!"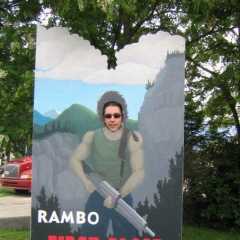 The Rev has outdone himself once again with this fantastic scene! Charlotte has never looked better and Rev's classic slapstick comedy and humiliated reactions make this scene a real winner! Plenty of mess, gorgeous girls, sexy outfits and perfect reactions make this one epic scene! A must have if you like the Rev's stuff! 10 out of 10!
ruegger,

5/10/18
edit review
Free picture gallery:

Report