| | |
| --- | --- |
| Maria's Revenge..Jessie Takes The Lot! | |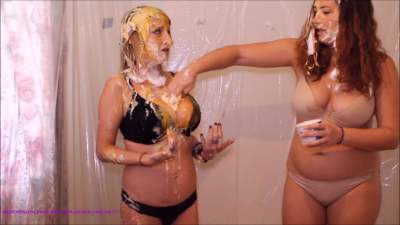 Starring these models:
"Jessie starts to pie Maria turns the tables and revenge is very messy"
| | |
| --- | --- |
| File count: | 1 |
| Total size: | 435.62 MB |
| Runtime: | 18 mins, 10 secs |
| Released: | 5/02/16 |
| Rating: | |
| Reviews: | 2 |
| Views: | 10310 |
| Scene ID: | 17879 |
| Producer: | RevSlymsford |

$6.99



Jessie is at her desk in the office wearing her lovely new watch, when she receives a call from Regional Manager Ruby, who lets Jessie know she is leaving the company. Jessie can't hide her delight..now there'll be no-one to stop her wamming and destroying all the temps. There is lots of gloating from Jessie about how she can now trash whoever she likes, with no danger of her getting messy.

Then Maria arrives..even better. Jessie has already trashed Maria twice and now she knows there can be no possible consequences. She turns to camera and asks you all: 'Should I mess Maria up..well should I?' and the girls go upstairs, giving us a lovely view up Jessie's short skirt! . Maria tells Jessie she has something important to tell her. She wants them to make peace. Jessie tells her she wants to give her a peace offering.." a piece of pie" and she splats Maria in the face with a lovely creamy pie.

Maria says there's something Jessie needs to know, but Jessie interrupts, and says she doesn't care and pies Maria again

Covered in pie, Maria finally tells Jessie she is the new regional manager. She says one of her first decisions had been wanting to get rid of the barbaric pieing system, and Jessie backtracking furiously, agrees. She offers to help dispose of the pies, and when Maria asks her to throw out a banoffee pie, Jessie says 'let me have it', and Maria does..full in the face, with pie also dropping down into Jessie's ample cleavage. Next up is a carton of yoghurt over Jessie's head, and again plenty of yoghurt finds its way to those lovely boobs. Next Jessie's shirt and skirt come off, and she is pied in the cleavage by Maria.

Clad only in her underwear, Jessie then takes another pie over the head from Maria. Next up is a gooey creamy pie over Jessie's bottom, her tiny throng offering no protection at all

Then to really ruin Jessie's beautiful hair, Maria pours most of a full tin of golden syrup into it. That will never come out! The remainder isn't wasted, going into that glorious cleavage again.

Then it's time for extra thick gooey cream..again into the cleavage..Maria found it an irresistible target. Followed by the thick thick cream down into the thong, and then into Jessie's bra cups. and then..what you've been waiting for..thick black paint all over Jessie's beautiful hair, down her cleavage and over her body

Next up is hot coffee all over Jessie, after which Maria strips to nude to protect her underwear from being ruined. As Maria goes to remove Jessie's bra, the scene fades.
Reviews from Paying Customers:
"Jessie messed--enough said!"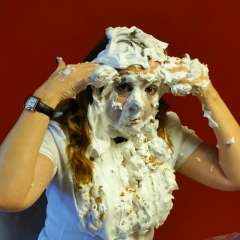 A great scene which reminds us of the excellent chemistry Maria and Jessie have on camera.
No shortage of mess in this one as Jessie dishes out the mess first. Those liking a revenge plot in their scenes will love this as Maria begins a full, thoroughly deserved messing of Jessie, who takes it like a champ.
Geat build up scenes typical in lots of Rev's scenes that I own, including a cheeky look behind Jessie as she walks upstairs!
To top it all there are boobs on show at the end! Well worth the wait for this scene, great work.
Hue and Pie,

5/25/16
edit review
"Brilliant watch wam, loved it!" Well you know me, I always enjoy me some watch wam, and this was brilliant! Lots of gloopy glops, watch gets completely covered in it. It even moves around abit as it's loose and gravity and low friction takes over, love that! And high contrast (dark glop vs shiny watch) is always good :)
Of course, the general messyness of the scene is nice too, high contrast with a spot of yellow, nice and "clean.."..mess...if that makes sense :P (Mixing everything makes a grey in the end, this scene kept it unmixed!
Brilliant!
Edorin,

5/4/16
edit review

Report