| | |
| --- | --- |
| Kacie Vs Satine: Who Trashes Cherry Better? Round 2 | |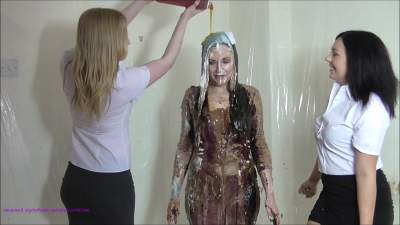 Starring these models:
| | |
| --- | --- |
| File count: | 1 |
| Total size: | 1.1 GB |
| Runtime: | 12 mins, 7 secs |
| Released: | 2/27/19 |
| Views: | 1537 |
| Scene ID: | 33480 |
| Producer: | RevSlymsford |

$7.99



It's Round Two of the contest to establish who can trash Cherry better, and earn a promotion!

We start with a recap of Round One, where Kacie and Satine were both competing for the same promotion. Area Manager Maria sent Cherry an email, telling her she must allow both Kacie and Satine to trash her with multiple substances, justifying their choices, and over two rounds a winner would be chosen. Cherry was horrified, as she was in a lovely new dress, but was covered in coffee, pies, treacle, cream, ice cream sauce, and gunge.

In Round Two Kacie and Satine go to town with chocolate gateaux to the cleavage, squirty cream to the bottom, pie to the face, chocolate custard in the cleavage, chocolate brownie mix over the sleeves and back of the dress, golden syrup over Cherry's once lovely blonde hair, a whole trifle onto the head and finishing her off with a pie to the face. As Cherry is their boss the girls pretend to sympathise as she explains she has to go and do a presentation to the new starters, and worse it's on the other side of the office, so everyone will see her humiliated and embarrassed as she walks through... but as soon as she is gone they are able to laugh and gloat at how they trashed their boss

"How much fun was that! I've wanted to do that to her for so long" beams Kacie

"Her face when she found out" laughs Satine

and the girls relive their highlights... but who do *you* think should get the job?

Report