| | |
| --- | --- |
| Masie Stripped Naked and Totally Destroyed | |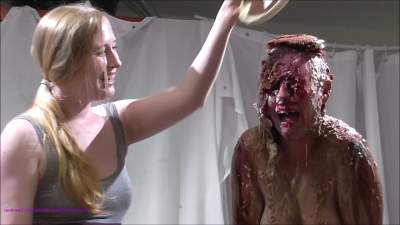 Starring these models:
| | |
| --- | --- |
| File count: | 1 |
| Total size: | 1.07 GB |
| Runtime: | 23 mins, 55 secs |
| Released: | 10/23/18 |
| Views: | 4596 |
| Scene ID: | 31091 |
| Producer: | RevSlymsford |

$9.99



Satine takes great pleasure in totally destroying new Slymsford's model Masie Dee. Poor Masie's expensive underwear gets trashed and cut off, and she ends up completely naked and totally covered in mess. We pick up the story with Masie already stripped to her underwear, and next Satine tricks her by placing a gooey pie on her chair and getting Masie to sit down. Poor Masie gets a huge shock.

Satine finds this hilarious and also loves it when she grabs a big bowl of cake batter and pours it all down Masie's cleavage, ruining her expensive bra, and then all over Masie's knickers to ruin them too.

She then makes Masie grab some cherry yoghurt and begin slopping it over herself, before using a fishslice to catapult pieces of gooey gateaux onto poor poor Masie. "It's all slimy" she wails. Satine then makes Masie hold the back of her knickers open, while Satine fills them up with squirty cream, before making Masie turn around and filling up her bra too. "Two jugs of cream" quips Satine who is loving the opportunity to destroy the new model.

Satine then grabs a big tub of baked beans and gets Masie to hold the front of her knickers open "Oh no... please don't" begs Masie, but Satine can't resist... and pours the beans into the panties. "oops I slipped" Satine laughs cruelly. Next Satine grabs some scissors and before Masie can react, she cuts off poor Masie's expensive bra. "That was my new bra" wails Masie. She then covers Masie's bare boobs by putting a trifle on each one. Next she pours spaghetti hoops all down Masie's back, before pouring rice pudding over her head, and down her back. After some thick cream over the top of Masie's head, Satine grabs the scissors again and while Masie wails "Please don't cut those" she cuts Masie's knickers off, before giving her a pie to the pussy.

Next she makes Masie grab handfuls of chocolate porridge from a bucket and pour them all over her lovely stockings and suspenders, before tipping the rest of the bucket over Masie's face and down her back.

Next she smushes a black forest gateaux right into Masie's face, before getting a carton of cream and pouring it over Masie's boob. Then she gets a chocolate cake and asks "what do you think guys? Should I? " before delivering a fantastic hit to Masie's face, before placing another pie on Masie's chair and making her slowly lower her bare bottom into it. Next she pours Nutella over Masie's boobs and over the top of her head "Not in my hair" begs Masie, to no avail. Then it's a thicky creamy pie all over Masie's tits. She then makes Masie get on all fours and pours trifle down her lower back and bottom, before doing the 'alternative pie sandwich' of bottom and face, before making Maise go head dunking in a bowl of oatmeal, before pouring another bucket of oatmeal all over her head. Masie ends up a totally destroyed wreck Pair with Pt 1: https://tinyurl.com/yajtqgl2 and get another scene completely free.

Report