| | |
| --- | --- |
| Satine the Human Pie Target! Messy Will Part 3 | |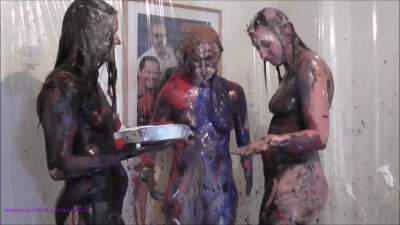 Starring these models:
"The remaining pies need to be used, and Satine is a lovely human pie target"
| | |
| --- | --- |
| File count: | 1 |
| Total size: | 859.54 MB |
| Runtime: | 16 mins, 30 secs |
| Released: | 1/29/18 |
| Views: | 3163 |
| Scene ID: | 26374 |

$8.99



Satine gets totally trashed and then the girls make up, in the final part of The Messy Will! Paint, cakes, pies, yoghurt, gunge, porridge, squirty cream and much more in this epic conclusion

As the scene starts, Pandora and Honour have found a spare tray of pies and mess that wasn't used. The will stipulates all the messy supplies must be used..."Well, you're covered " Pandora tells Honour "and so are you" replies Honour "Oh no no no" pleads Satine as the other two girls arm themselves with pies "Come on ladies, we don't need to do this, now do we?" she begs "You wouldn't be so mean would you?"

Splatt! Honour provides the answer, pushing a chocolate gateaux right into Satine's face..

Splott! Pandora follows up with a strawberry gateaux smeared over the front of Satine's once beautiful dress

Honour grabs a jug of gunge "No, please!" exclaims Satine in horror, but Honour doesn't care and pours it right over the top of Satine's head.

There's no coming back for Satine and she takes chocolate porridge, squirty cream, foam spray, yoghurt, and pie

"This dress is ruined" wails Satine, and it is so the girls remove it. Her bra and panties are subject to ice cream sauce and golden syrup, and she takes more chocolate gunge before her bra and knickers are removed.

"Surely I've had enough now ladies" wails Satine, but for moaning Pandora spanks her bottom hard.

"oww that feels so horrible" yells Satine

"Well maybe a nice soothing pie will help" laughs Pandora Splatt..a banoffee pie is rubbed into Satine's bare bottom

"Oh, this is so naughty" laughs Pandora

and then comes the paint...3 full tins..red, white and blue all over Satine's naked body, leaving Satine looking like a French tricolour

With her clothes ruined, and now covered in paint and slop Satine reflects "I suppose we are taking after Sarah" Next up Satine takes a pie to the pussy

Then the girls playfully rub each other's bodies and rub up against each other, their slippery bodies, huddling together and smearing pie, and pouring gunge over themselves as they laugh and joke

They end with a messy hug before a quick behind the scenes interview, and then some footage of the girls washing off together in the shower

Amazing Value!

Report