| | |
| --- | --- |
| Axa Tied To A Cross + Destroyed By Louise and Honour | |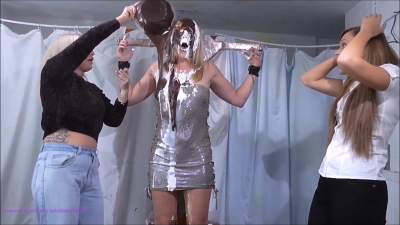 Starring these models:
"Louise Lee + Honour May masturbate when turned on by Axa's humiliation"
| | |
| --- | --- |
| File count: | 1 |
| Total size: | 464.58 MB |
| Runtime: | 15 mins, 12 secs |
| Released: | 3/10/19 |
| Views: | 3211 |
| Scene ID: | 31994 |
| Producer: | RevSlymsford |

$10.99



Honour has a promotion opportunity for Louise, but she needs to see how good she is at giving 'The Treatment'. Axa is tied to the cross and Louise is told to do her worst! "This is going to be amazing" laughs Louise "I just love to humiliate and trash girls"

Axa could leave, but she enjoys her job and knows she broke the rules and this is the agreed punishment. Still, she pleads to be let off... she's just had expensive highlights in her hair, and has spent an absolute fortune on her dress. "I've got nice new knickers on as well" she adds, and Honour lifts her dress and confirms this. However Louise is not inclined to show mercy. She gets the first pie and smushes it into Axa's face. She and Honour laugh at poor Axa's face covered in pie.Then Louise grabs yoghurt and pours it over Axa's head.

"Oh Axa, you really don't want those on your blonde highlights... it's going to ruin them" laughs Honour.

Then Louise gets a jug of rice pudding and pours it inside the top of Axa's dress... and she and Louise laugh as the rice pudding journeys down the dress and comes out at the bottom. "That is hysterical... you look ridiculous" Honour tells Axa.

Louise picks up a bowl of chocolate sauce and wonders whether to tip it over Axa's head. Honour starts clapping and chanting "Do it! Do It! Do It!" and Louise pours it over Axa's head and all down her once beautiful dress. Honour even helps her rub it in a bit.

Louise then gets another thick gooey pie and smears it all over the front of the dress.

Honour wants to join in, so Louise hands Honour a pie, and Honour smashes it into the side of Axa's face and hair, before rubbing it in at the front. "You look absolutely destroyed" laughs Louise.

Louise notices Honour's jeans are undone and she has her hand inside her knickers.

"What are you doing?" asks Louise. "I'm sorry" apologises Honour "it's just turning me on seeing her trashed like this."

Louise muses, as she pours a tub of chocolate custard over Axa "I don't mind... but do you mind if I join you?" she says finally.

She undoes her jeans and slips her hand inside her knickers, so now both girls are masturbating. Honour then grabs some rice pudding and throws it forcibly over the front of Axa's dress

"Mmm I can feel my pussy getting wetter and wetter" she sighs, before grabbing a carton of cream and pouring it all over poor Axa

As Honour peels down her jeans and puts her hand back inside her panties, Louise gets a can of golden syrup and pours it over Honour's head. "This is going to cost me hundreds at the hairdressers" laments Axa

"Get it on the dress, get it on the dress" encourages Honour, and Louise does.

When the syrup is finished, Louise takes off her jeans too.

Then Honour grabs a jug of melted chocolate and she and Louise make sure every inch of the front of the dress is covered in mess. They pull the top of the dress down exposing Axa's tits, and have a quick grope for added humiliation. "Are you going to misbehave now?" they ask her, laughing.

Report