| | |
| --- | --- |
| Erotic Lesbian Seduction: Chocolate and Cream Fuck | |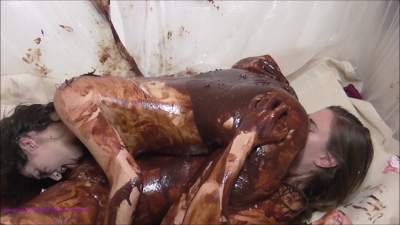 Starring these models:
| | |
| --- | --- |
| File count: | 1 |
| Total size: | 691.75 MB |
| Runtime: | 15 mins, 32 secs |
| Released: | 7/23/18 |
| Reviews: | 1 |
| Views: | 8793 |
| Scene ID: | 29343 |
| Producer: | RevSlymsford |

$12.99



The naughty lesbians decide they just have to fuck, and with Honour continuing her seduction of Liz she teaches her about the joys of chocolate spread and squirty cream play. After some more hot french kissing, boob stroking and general caressing, the girls decide they want to get even naughtier. Honour grabs a bowl of melted chocolate, dips her hands in and then begins to smear the chocolate over Liz's tits. Liz, of course, is happy to return the favour. Liz begins to lick Honour's chocolate covered boobs, before the girls exchange naughty chocolatey deep kisses

The girls grab more chocolate and begin to smear it all over each other's bodies. Honour thoroughly coats Liz's bottom, taking the opportunity to have a good caress, before Liz decide's Honour's pussy needs some rubbing and fingering.

They ten pour some more chocolate over Honour's front and decide to slide and grind their bodies together.

Liz then begins to rub Honour's pussy, to Honour's evident delight, before kissing and licking Honour's boobs at the same time.

The girls swap position so there can be some face-sitting as Liz sits on Honour's face and the girls begin to lick each other's pussies in their sexy 69 position. After a super 69-ing the girls come up for air and reach for the squirty cream. They squirt each other's boobs with the lovely cream... and now they decide they need to make each other cum.

Honour grabs a banana and uses it on Liz's pussy, before switching to using her finger, until Liz comes in a wonderful climax,. Honour removes her fingers, and erotically licks Liz's pussy juice from them.

Honour then gets on all fours, with her arse to the camera and Liz sprays squirty cream over Honour's arse crack, before massaging it into Honour's pussy, and then licking it off!

Understandably this leads to Honour cumming too

The girls finish with a final few cuddles and caresses before Honour agrees to be Liz's permanent personal shopper, as long as she can be her personal fucker too... before they call for the clean-up crew to clear up the mess they have made! Then, for those who like such things, we get a sneak peak at the two girls in the shower afterwards!

Available in the amazing Buy 2 Get 1 Free offer.

Plus look out for the sequel https://umd.net/download_info/liz-and-honours-new-messy-lesbian-xxx-fu.
Reviews from Paying Customers:
So after the cake sitting, the models get to play with chocolate and cream. I am not really into "porn" WAM but this is real! Honour loves smothering it all over herself. She pours loads over herself and asks Liz to slide on her body! They both have a real sixty nine. The scissor fucking is the best I have ever seen, not only in WAM but in porn in general.
This movie is one everyone needs to buy. I just wish there was a part 3, 4, 5, 6, 7, and 8!
There is a nice shower scene at the end, and, well, you can tell the mess got everywhere!
ItsJay,

7/23/18
edit review
Free picture gallery:

Report