| | |
| --- | --- |
| Judge Patience 4: Total Messy Destruction | |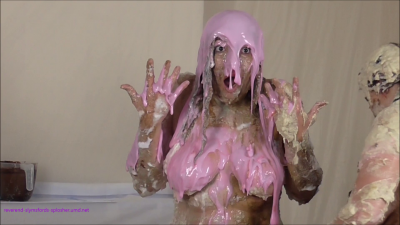 Starring these models:
| | |
| --- | --- |
| File count: | 1 |
| Total size: | 561.02 MB |
| Total runtime: | 12 mins, 30 secs |
| Date added: | 5/17/18 |
| Views: | 1252 |
| Scene ID: | 28443 |

$9.99



If you are wondering why such a ridiculously large amount of mess ends up all over Alais and Patience in this scene, it's because on the day, we started very late..and had to cut an entire scene...so the mess that was supposed to cover three scene, was all used up in two! In this final part Alais and Maria are not letting their grudge pie fight end easily. Despite Judge Patience's efforts to bring it to a close it starts up again when Alais put some leftover custard down the back of Maria's panties "take that, bitch" she yells. Maria retaliates with a trifle to the front of Alais' knickers, and we are off again.

Judge Patience then gives each girl a cake and encourages them to smoosh it into the other girl's knockers...and they do so with wilful abandon.

Maria grabs yet another trifle and pours it inside Alais' thong and over her bottom. so Alais grabs the treacle, pulls open the front of Maria's knickers and pours it in, before pouring more into her hair and over her boobs.

Alais then takes a full jug of gunge and pours it over Maria's hair..so Maria takes a black forest gateaux in her hand and just shoves it into Alais' face.

Maria yanks Alais' panties down, but the judge has had enough of thir free form anarchy and sprays them both with the 'fire extinguisher' foam sprays.

It doesn't have much effect though, as Alais immediately yanks Maria's knickers down leaving both girls totally naked When Alais talks back, the judge sprays her again..which causes Maria to laugh hysterically.."Ha Ha..she told you off.."till the judge turns the fire extinguisher on her again. The Judge instructs them to finish off using the rest of the materials and then clen up. Maria tricks Patience into grabbing a bucket, and pies her naked bottom with a gateaux.

but when she turns her back. she gets a whole bucket of oatmeal down her back and bottom in return.

Maria won't stand for this and gets another bucket of oatmeal and upends it all over Alais' head. The tit 4 tat continues when Alais dumps a whole bucket of pink gunge over Maria's head.

Maria grabs a pie "you're such a ct" she exclaims and splatt..the pie ends up in Alais' face...and she follows up by shoving a cake in her face too

Then she rubs a whole chocolate gateaux into Alais' bottom and face

Alais tries to get her back with some treacle but when that doesn't stop Maria she gras a trifle and lets her have it right in the face and pussy

Then Maria and Alais get covered in fire extinguisher foam again and Maria gets Alais with some icecream sauce

The Judge then takes things into her own hands, quite literally, and gives them both a pie to the pussy, and declares this epic messy courtroom saga closed

Report
.