| | |
| --- | --- |
| Judge Jessie E:2P:4 Faye Ends up Naked and Trashed | |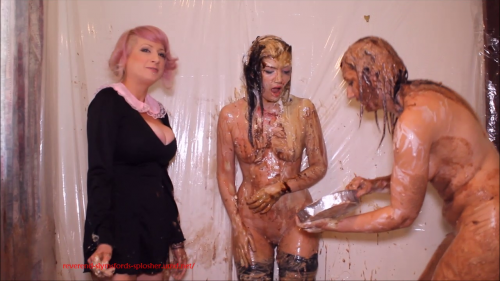 Starring these models:
"Guilty Faye given the treatment by Jessie and Pandora"
| | |
| --- | --- |
| File count: | 1 |
| Total size: | 429.11 MB |
| Runtime: | 12 mins, 14 secs |
| Released: | 11/17/15 |
| Rating: | |
| Reviews: | 1 |
| Views: | 11749 |
| Scene ID: | 16066 |
| Producer: | RevSlymsford |

$12.99



The scene starts with Jessie revealing that the newly found camera footage reveals Pandora's explanation to be true. She is innocent. Faye has lied. Jessie apologises to Pandora. Faye meanwhile despite the clear proof, continues to lie and moan. Eventually Jessie has had enough and encourages Pandora to throw a pie in Faye's face if only to stop her lies. Faye holds out her arms and pleads 'we can all be friends' but Pandora wants revenge and the pie splats in Faye's face. Jessie encourages Pandora to not hold back, but to give Faye the wamming she deserves for lying in court. Pandora eagerly agrees pouring cold sticky treacle over Faye's lovely hair, and then over her gorgeous dress. Jessie feels she has to make suggestion, and grabs a bottle of chocolate milk and throws it over the pretty dress, and then over Faye's head. Then, uh oh, Pandora has found some house paint. Surely she wouldn't pour that over Faye's lovely hair would she...wow! it seems she would. Faye is doused in thick white paint. She is really getting taught a lesson for her awful lies. Next Faye's gorgeous dress is removed and she is left in lovely matching black bra and panties. They don't stay lovely for long though, as Pandora splats a cheesecake over Faye's chest. Next up Pandora pours slops into Faye's stockings before the naughty girls decide what Faye really needs is trifle down the front of her knickers. They pull forward the waistband and in it goes. Faye is hating her punishment but unlike poor Pandora and Maria, she really deserves it. Jessie decrees Faye's bra needs to be removed, and while she sets about unhooking it, Pandora squirts ice cream sauce over Faye's head and then over her body including her newly revealed bare boobs. Jessie and Pandora then get another trifle and rub handfuls of it directly into Faye's breasts. They then decide to remove Faye's knickers..Pandora yanks them down while Jessie announces 'down they go!'. Then there's just time to trash Faye's precious handbag with golden syrup, and to finish her off with a lovely pie in the pussy. Jessie thanks Pandora and tells her she leaves without a stain on her character, but with quite a few on her dress. Jessie then concludes with a Jerry Springer style homily lamenting how sad it is that she has to trash beautiful girls, and how she longs for the day when everyone can leave clean.

That's the scene over, but there's also a 30 second vox pop with Pandora talking about how it felt being wammed for the first time.