| | |
| --- | --- |
| Judge Jessie: E2 P3 Pandora Stripped and Trashed | |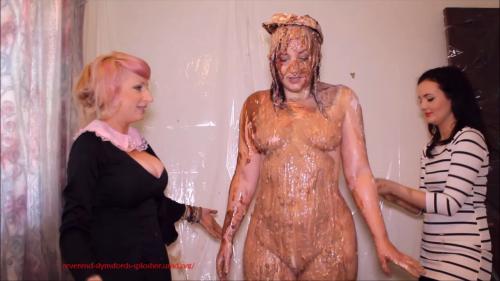 Starring these models:
"Pandora suffers trifle, pies, custard, yoghurt, squirty cream and more"
| | |
| --- | --- |
| File count: | 1 |
| Total size: | 533.86 MB |
| Runtime: | 14 mins, 47 secs |
| Released: | 11/04/15 |
| Rating: | |
| Reviews: | 1 |
| Views: | 8813 |
| Scene ID: | 15966 |
| Producer: | RevSlymsford |

$12.99



The scene starts with a brief recap of Parts 1 and 2 for new viewers. Then we are off and running with Part 3 where Jessie pronounces her verdict and finds Pandora guilty. Faye is delighted. Jessie offers Faye the choice, she could be generous and settle for just an apology, or she can exact a messy, humiliating revenge. Pandora begs and pleads for mercy pointing out her clothes are brand new. Jessie admires her gorgeous blouse. Jessie struggles to hide her excitement that 'such a pretty blouse' will be trashed. Faye starts with a gooey pie over the head, then pulls forward Pandora's blouse, to pour Chocolate custard down the inside, and then over her hair. Pandora's blouse is unbuttoned to reveal a lovely pink bra, swiftly attacked by Faye with thick strawberry sauce..more sauce is then used to further destroy Pandora's beautiful hair. Faye then picks up a gooey banoffee pie and gets Pandora full in the face. Jessie's reactions show how much she is loving watching Pandora get destroyed. Faye asks Judge Jessie to open the chocolate milk..this is too much temptation for Jessie, who can't resist getting involved and pours it over poor Pandora whose pleas are completely ignored. Pandora's skirt and knickers get covered in the chocolate milk. Squirty cream is then sprayed up the front of Pandora's skirt covering her knickers, and then all over her bra and finally her poor ruined hair. Pandora wails that her whole outfit is completely ruined, but the girls don't care. Then to add to Pandora's shame Jessie removes her blouse and skirt in front of the whole courtroom..Pandora is mortified with embarrassment. Then Pandora is made to bend over, and a whole trifle is poured into the back of her knickers...then a lovely strawberry yoghurt down the front of Pandora's knickers. Pandora is ordered to remove her bra and panties..& naughty Faye squeezes the yoghurt filled knickers out over Pandora's head..how cruel is that! Faye follows it up with another pie to the face. Suddenly Maria arrives in just her bra and knickers, with some vital new evidence. Jessie will need to consider this..but before doing so, she insists Pandora's punishment is completed! She says Faye did a good job but could have done even more to humiliate Pandora. She points out Pandora's stockings are still intact..& demonstrates how Faye should have trashed them with a jug of horrible slops. Jessie delights in pouring the slops inside the stockings. Pied boobs are next then slops over the head, running down over Pandora's pussy. Having giving that lesson, Jessie calls an adjournment and the scene ends.