| | |
| --- | --- |
| Judge Maria: The Case Of The Enlarging Boobs | |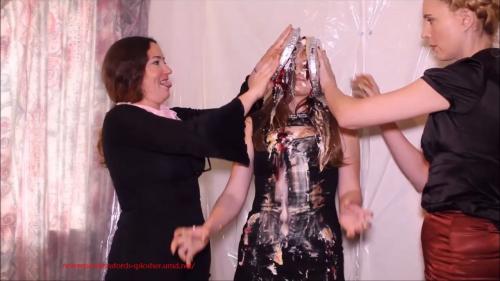 Starring these models:
"Judge Maria and Ariel Anderssen given Honour May the treatment!"
| | |
| --- | --- |
| File count: | 1 |
| Total size: | 547.62 MB |
| Runtime: | 16 mins, 21 secs |
| Released: | 1/25/16 |
| Rating: | |
| Reviews: | 1 |
| Views: | 9158 |
| Scene ID: | 16854 |
| Producer: | RevSlymsford |

$12.99



The scene starts with Judge Maria meeting her new assistant Ariel on her first day. Ariel has made a real effort and had her hair done and bought a new outfit, which Maria seems impressed with. We then see Ariel backstage on the Judge Maria show, briefing the accused in today's case, Honour May, who is wearing a lovely new expensive dress, and has had her hair done too. Later Ariel is surprised when Maria asks her about Honour's boobs and panties. The case starts... Honour mistyped on her application for a lingerie shoot, saying her boobs were size F, when they were size B..causing the client to lose money as the bras did not fit and the shoot was cancelled. To check the evidence, Maria removes Honour's dress and bra, and measures her boobs. She then calls an adjournment in which she tells Ariel she doesn't care whether Honour is innocent or not..she's wants to trash her. Honour returns and Maria finds her guilty. They start with a spanking for Honour, and then the wamming begins. Ariel starts things off by giving Honour a pie in the face, quickly followed by chocolate custard over the head and down the cleavage. Next it's lovely trifle smeared into the cleavage, and all down the gorgeous dress, before giving her a trifle case hat. A jug of thick creamy rice pudding is next, all over Honour's gorgeous long hair. Maria thinks the hair is still too clean at the back, so then thick gooey treacle is poured over those gorgeous tresses, with more treacle smeared over the back of Honour's beautiful dress. Then it's time for a pie sandwich and this is a classic of the genre. Two lovely creamy pies are wielded by Maria and Ariel and splatted either side of Honour;s face. Now it's time for some clothes to come off. The ruined dress is removed, leaving Honour in an amazing matching bra, thong, stockings and suspenders set. Oatmeal is poured down Honour's front, including into her bra cups. Then comes an amazing pie on the bottom..worth the entrance fee by itself! Then it's more oatmeal over the head. While Honour begs them 'please no!, not my new panties' the girls ignore her, Ariel pulls forward the waistband of her knickers and in goes sticky golden syrup. Syrup is then poured over her ruined hair, before Maria follows up with a great pie in the face! Maria deposits the remains on top of Honour's head. Now its time for the bra and knickers to be removed, revealing Honour's amazing boobs and pussy in all their glory. Next the girls ruin the stockings by pouring chocolate gunge inside them. Chocolate gunge is then poured over Honour's breasts. Finally, a pie to the pussy finishes her off before Judge Maria and Ariel dismiss her. important Note: The build-up (non-wam talking bit) and the first 30 sec of the wamming are not sharply focussed. However the camera righted itself after that so 95% of the actual wamming is in glorious sharp HD. The screengrabs show this.