| | |
| --- | --- |
| 'Miss WAM' Party 3 Girl Pie Fight Pt 2 | |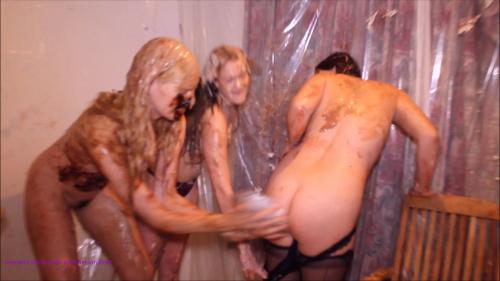 Starring these models:
| | |
| --- | --- |
| File count: | 1 |
| Total size: | 457.03 MB |
| Runtime: | 11 mins, 18 secs |
| Released: | 11/22/16 |
| Views: | 6867 |
| Scene ID: | 20281 |
| Producer: | RevSlymsford |

$2.99



All 3 girls end up naked and totally trashed! P2 starts with Honour removing Ariel's dress, leaving Ariel in just her new purple knickers. They aren't pristine for long though, as Honour splats a pie into them.

Ariel grabs Honour's handbag containing her crown 'anything but the crown' begs Honour, but Ariel doesn't care. She holds the handbag open and Maria pours thick gunge over the crown and the inside of the handbag. Then Ariel takes the gungey crown and plonks it on Honour 's head. Meanwhile Maria can't resist upending the bucket of gunge over Ariel's head. Honour grabs a jug of chocolate sauce and pours it over the front of Maria's waitress outfit

Ariel unzips and removes Honour's dress, leaving her in gorgeous burgundy underwear

Honour grabs a pie, lifts up the front of Maria's waitress uniform and pies her black knickers.

She then removes Maria's waitress uniform releasing Maria's amazing boobs. "Lets get those covered up" says Ariel, squirting ice cream sauce over them, with Honour helpfully rubbing it into Maria's tits. She then squirts more ice cream sauce over the front of, and inside Maria's panties.

Ariel gets a bucket of porridge and pours it over Honour's head, and then pulls open her bra cups and pours it into them. When Ariel is bending over Honour squirts jam all over the backside of Ariel's knickers, before rubbing it in.

Ariel spins her round and removes her bra. Honour won't stand for that and shoves a chocolate cake into Ariel's toned stomach.

Ariel turns round again to grab a pie and again Honour gets her knickers with jam..this time she pulls them down too, leaving Ariel naked.

Ariel rubs a gooey lemon cake over Honour's bare tits. Next Honour grabs Ariel's handbag and mushes a gooey cake inside. Maria laughs, so the 2 models turn her around, pull down her knickers and Ariel splats a pie right on her bottom, which they then rub in.

Honour admires Ariel's expensive watch... 'destroy it' encourages Maria, and Honour totals it with thick ice-cream sauce.They remove it and throw it into a bucket of gunge and upend the bucket of gunge over her head. Ariel pulls down Honour's panties and gives Honour a pie to the pussy. Honour isn't taking that and gives Ariel a pied pussy back. Then Honour grabs yet another pie and gives Maria a pied pussy. Ariel grabs two trifles and offers one to Honour as they are just the rights size for Maria's boobs. 'No..don't do it' begs Maria but the girls don't care and give her 'trifle tits' rubbing the trifle in thoroughly

Ariel follows up by pieing Maria full in the face.

"after dessert comes coffee" says Honour and she pours the jug of coffee all over Maria 'Want to shower with me?' Honour asks Ariel, and they leave. 'Enjoy clearing up the mess' they laugh at poor Maria

Low price as video quality is below my normal level...the screengrabs show the quality.

Report