| | |
| --- | --- |
| 3 Naughty Schoolgirls Stripped and Sploshed | |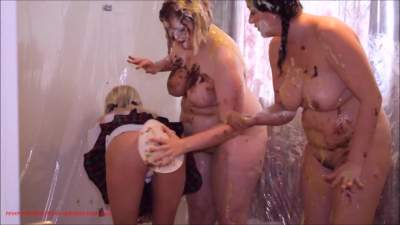 Starring these models:
"Wearing wrong panties leads to tit4tat piefight and stripping"
| | |
| --- | --- |
| File count: | 1 |
| Total size: | 499.88 MB |
| Runtime: | 16 mins, 48 secs |
| Released: | 6/10/15 |
| Rating: | |
| Reviews: | 1 |
| Views: | 19920 |
| Scene ID: | 14644 |

$6.99



St Pius Finishing School For Young Ladies has strict standards for uniform. Including regulation white bra and panties. However rebel girl Kitten, and exchange student Maria are both wearing their own choice of undies. They admire each other's scanties, and talk about who they fancy, who "has a nice rack," etc. Suddenly Head Girl Jessie appears. Jessie is a fair and kind head girl, but she does know rules are to be obeyed. She inspects their uniforms, and discovers the scandalous knickers. Exchange student Maria is new, but Kitten knows better. Jessie is going to spank Kitten as punishment, but Kitten is so blase, Jessie finds an alternative idea: mess Kitten up with the goodies for the midnight feast. A pie on her bare bottom with knickers pulled back up starts the ball rolling, and Jessie follows up with pies. Maria, rather than appreciating the seriousness of the situation, is laughing and mocking. And when she makes an indecent joke about why Jessie is called "Head" girl, then Jessie allows Kitten to get her back. This starts a tit for tat pie fight between Kitten and Maria, with Jessie laughing, and passing ammunition. Eventually the girls start stripping each other. Finally Jessie worries it is all getting out of hand, and calls a halt while she finds some suitable knickers for them. When she returns, they insist on checking her knickers. They check the front and they are white...but when they check the back..Jessie is wearing a thong! Jessie is mortified..it is a genuine mistake, but the girls don't care. They can either tell the headteacher, or get a very messy revenge. You can guess which they choose. All 3 girls are trashed, and Kitten and Maria end up fully nude.